There's no denying that social media has gained a tremendous influence over modern culture. It seems like almost everyone has their own Facebook or Twitter profile. As social networking has gone mainstream these communities are fantastic marketing tools for new websites.
This guide is dedicated to bloggers who want to create a prominent social media presence to drive more readers onto their blog. Large social networks have grown to connect people all around the world.
Keep in mind that not every blog needs to have a profile on every social network. Some networks are more useful than others depending on your blog's topic and audience. But these tips should help every blogger and webmaster figure out a reliable social media strategy.
The Importance of Social Media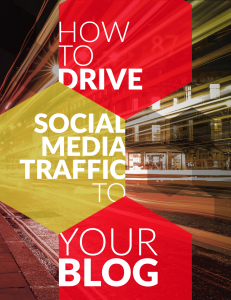 When first starting your blog it's going to be difficult to build a recurring audience. Over time your best posts will start to rank in Google which can drive a sizable number of repeat visitors. But this will require months of continual writing.
Social media is a great way to drive some early traffic when your blog is still young. Over time social media will continue to prove useful even when your blog is more ingrained with a supportive base of readers.
People love sites like Twitter and Pinterest to check out the latest popular ideas and trending topics. If your blog post is tweeted by a user with lots of followers the tweet might gain some retweets and push a jump in traffic.
Also keep in mind that tweets and posts are typically archived forever. So people may find these tweets or retweets months down the road. This type of social sharing is an alternative to the traditional Google search method and they both work together in harmony.
But it's traditionally easier to rank in Google compared to building a large following on social media.
Your initial goal should be to create trusted social media profiles for your blog. These can become like mini-feeds which include your latest posts, along with links back to older posts and more recent announcements about the site.
Plus you also want to build a sense of community and sharing among users. It should be easy for readers to share your post(s) on their social network of choice. Most popular blogs drive traffic through readers sharing their posts online. This in turn can result in multiple reshares and the ultimate effect could be a post going viral.
Targeting your Audience
It's important to ask yourself about the qualities of your audience. What type of content do they like? What type of websites would they visit? Aside from the big networks there are dozens of smaller ones that can be used strategically.
Plus when you consider large networks there are often many smaller groups focused on specific topics. For example Google+ has communities which are like group chatrooms for sharing ideas, questions, resources and links.
It may help to take a poll from readers to gauge their favorite social community website(s). But when first launching your blog this type of poll won't yield many results. You'll have to do some lateral thinking and put together ideas for yourself.
Just remember that a blog can have many different groups of people who are all interested in a single website or subject.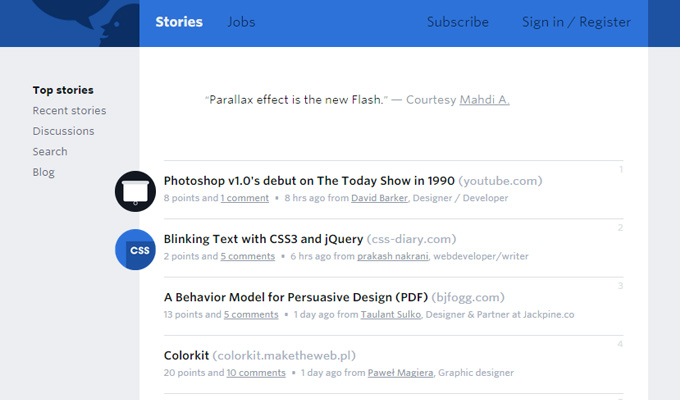 For example there's a major difference between the social news websites Hacker News and Designer News. They're built in a similar fashion but the two audiences are interested in very different subjects.
Learn how to read your content and determine the target audience. From there you can track down various websites, groups, and networks that may contain users with a similar interest.
Sociable Communities
First let's cover the big boys which have the ability to drive loads of traffic. These communities are often used by the largest amount of people from many countries all over the world.
It's recommended that you create a profile for your blog on at least 1-2 of these large social communities. Twitter is perhaps the most useful because it's built to function as a link feed or content aggregator. Every blog will benefit from a large Twitter profile.
Other than that just look around at other blogs to see how they run social strategy. Most webmasters create a profile on all the major communities because it's the best way to hit the largest audience. Some people may not even use Twitter but they could use Facebook. If your blog has a profile on both networks then you're able to hit a broader spectrum of potential readers.
Twitter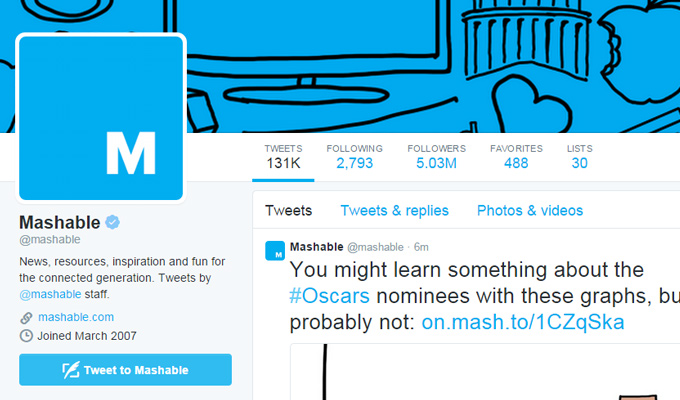 It only takes a minute to sign up for a completely free Twitter account. Once you've created a new account your first step should be updating the profile page. When people visit your blog's Twitter account the avatar & background image should be branded & recognizable.
Currently Twitter's avatar is sized at 300x300px and the background image should measure 2560x600px. Your avatar could be the blog's logo or just some general icon related to your topic.
The background photo could be anything, but it's preferable to stick with something related to the blog's content. If you can also place a small logo in the corner of the background photo it would add just a little more branding to the page.
From this point it's worthwhile to start following some accounts related to your blog. These accounts could be other blog's profiles or just profiles of people. Some bloggers don't worry much about their follower count and instead choose to follow thousands of people. It's a viable strategy but you have to be careful about Twitter's follow limits.
In the beginning your Twitter account will be a little stagnant. It'll take time to grow your follower count so even if you start posting links, they may not drive a whole lot of traffic. But this isn't a big deal because it's smart to have recent activity on the page.
People who visit your profile want to see that your account is active before following.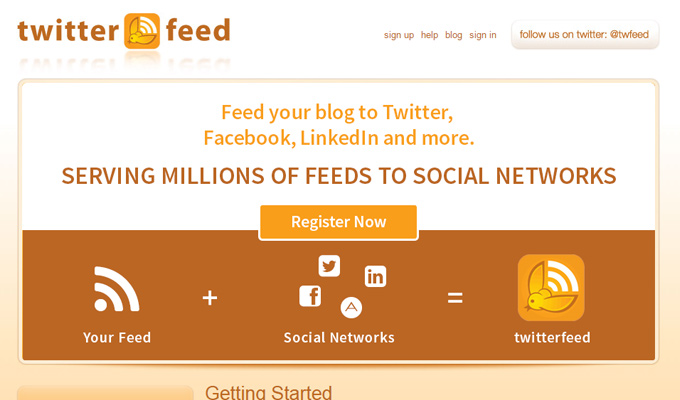 The free web service Twitterfeed is an excellent tool for bloggers. You simply connect your Twitter account and copy/paste your blog's RSS feed. Then each new post will automatically be tweeted onto your account after it's been posted. This way you don't need to worry about manual upkeep and your page will almost run on autopilot.
Facebook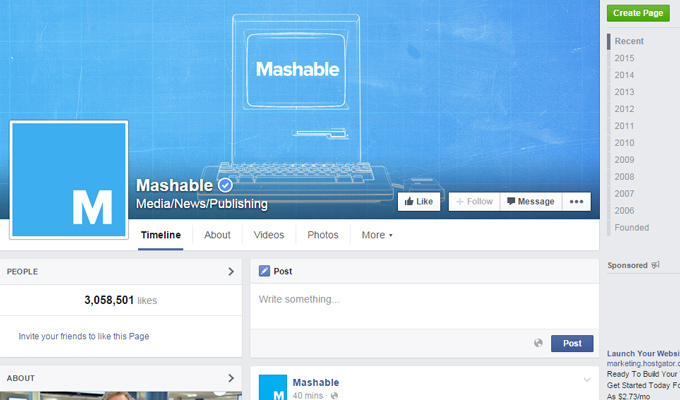 The epitome of social networks, Facebook is perhaps the most well-known community in every technological country around the world. Almost everyone has a Facebook account and that number is growing rapidly.
Facebook has a segregated system where people have their own profiles, and blogs/companies have "pages". You'll find a very educational article in the Facebook help center covering the difference between profiles and pages.
Basically profiles are for individual people while pages are for commercial entities, products, or brands.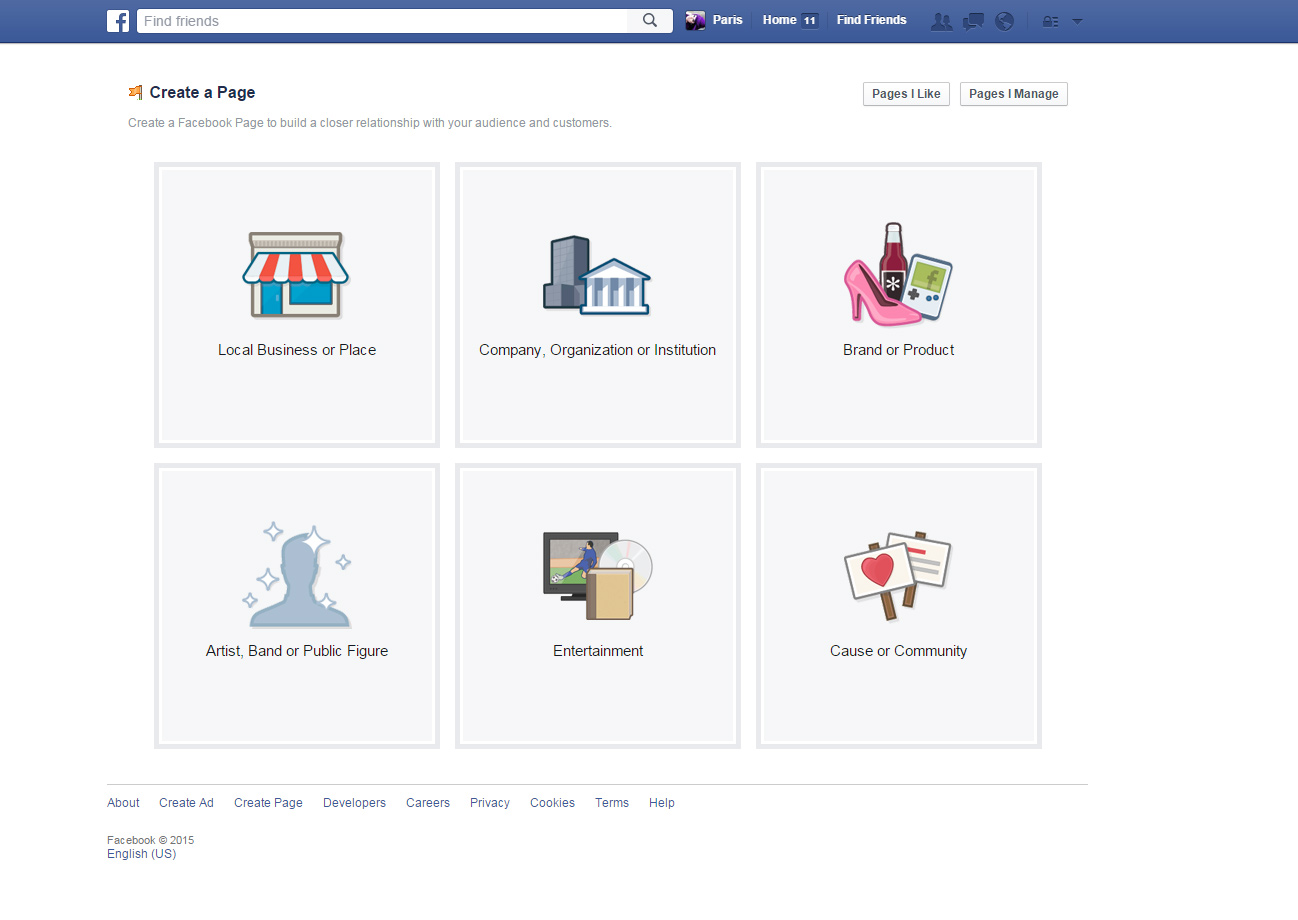 In order to create a Facebook page you'll need to first sign up for a profile account. Once you sign up as a "person" you can then convert your profile into a page using the profile migrate tool. It's very simple and shouldn't take more than 10-15 minutes.
Facebook is seen as more of a marketing tool for social validity. Your blog will be perceived as more valuable if the Facebook page has 3k or 4k likes. And while you can share links onto the page, most traffic will be driven by other users sharing links.
This is why it's so important to include sharing badge plugins on your blog. When visitors read an interesting post it should be easy for them to share the link with their friends. The Facebook badge makes it super easy and this is a great way to drive traffic through a natural process of sharing content.
Much like the previous Twitterfeed example, Facebook has a similar auto-posting app. RSS Graffiti is a tool which can auto-post up to 300 posts per month onto a Facebook page. There are optional pro accounts which cost money but these are unnecessary for most blogs.
Google+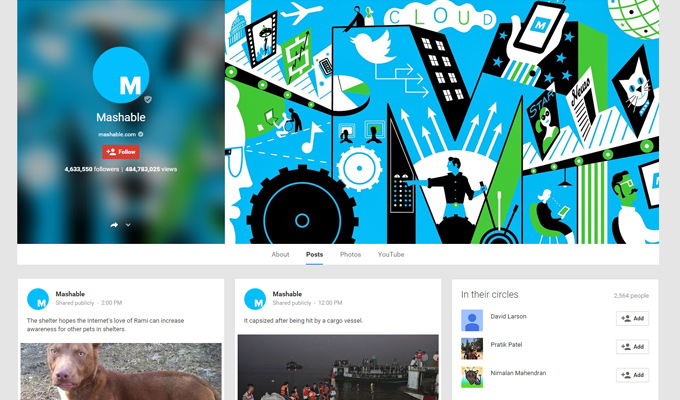 The most recent big-time social network is Google+. This is Google's alternative to Facebook which is geared more towards communities and groups of friends(work, school, family, etc).
But the greatest thing about Google+ is that it's a fantastic way for a new blog to fortify credibility. Google+ has a +1 button which is like their own sharing badge. People who like your blog or a certain post can +1 the content. This can be shared directly onto that person's Google+ page – but it also counts as higher social traction.
Content with lots of +1 votes can be viewed as "safer" in Google search results. So Google+ is not just a social network for bloggers; it's also a marketing tool.
Increasing Google+ ratings can sway the ranking and significance of your domain name.
When G+ first launch they created an authorship tool which allowed authors to connect their profiles for higher ranking. Unfortunately Google removed authorship and it now has no effect on search rankings. So when joining Google+ it's recommended that you create a profile solely for the blog and use it as a means of promoting new content.
Unfortunately there aren't many options for auto-sharing on Google+. The best choice currently is Automattic's Jetpack WordPress plugin which has features for auto-sharing onto Google+. But since G+ sharing is more of a detailed process it may be best to manually share important posts.
Digital Media Sharing
The alternative to direct link sharing is media sharing. As the Internet has become faster there's a greater demand for digital media like photos and videos. It didn't take long for media-focused social networks to appear on the scene.
While these may not be great for every blog, they can work really well for certain topics. For example, blogs with photos on photography of photographic content(tattoos, art, UI design) may do well with a photo sharing account. Similarly bloggers who create their own video tutorials will benefit immensely from a YouTube account.
Photo Sharing
The two biggest photo sharing networks are Pinterest and Instagram. Both websites have accompanying smartphone mobile apps which are very popular. They don't directly pertain to link sharing, but it is possible to include links with each post.
For example, Pinterest is primarily a streaming gallery of images. But for each new post you're asked to include a source back to the original location. Most people link back to photos they've found on Flickr or even their own portfolios.
Bloggers might instead create a Pinterest account for their own blog and post images from different pieces of content. Then you can link back to the original post which may drive a few interested readers. As you might imagine this strategy works best when you have interesting photos to post.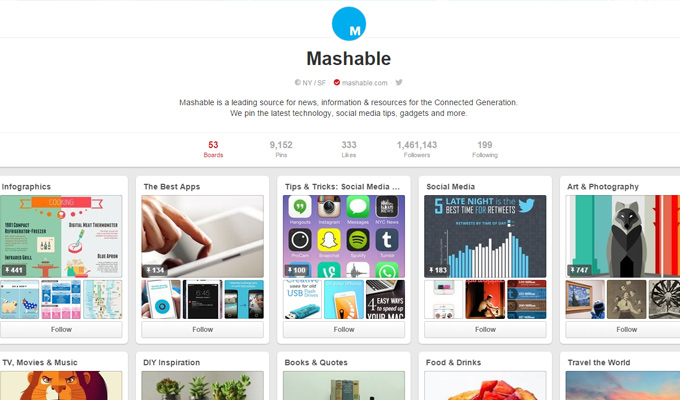 The Mashable Pinterest page is a fantastic example of a high-tier blog. They have different categories named boards which often mirror categories from the blog including humor, TV/movies, and infographics.
A similar marketing strategy can be used on Instagram which is also a very popular photo sharing app. The network is mostly focused on people who take photos with their phones. It's not as common to find profiles with manually-upload photos from the Internet – but it is a viable option for a blog profile.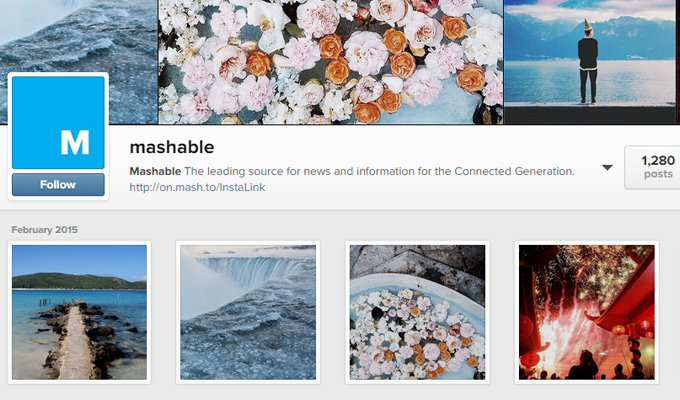 Between these two networks Pinterest is much better for driving traffic onto your blog. Instagram should be considered more of a branding platform, or a way to share interesting photos. Not every blog will find a purpose for using Instagram so don't try to force it. But Instagram does provide value to bloggers who have a clear goal for their photographic content.
Video Sharing
It's much more difficult to create video content for the web. This not only requires some type of recording equipment, but also video editing skills. But if you can pull it off the results are stupendous.
Relatable video content is one of the best methods for driving new users onto your website.
There's no doubt that YouTube is the most popular modern video network. New accounts can be created right through Google and the upload process is top-notch. Plus YouTube is the most trafficked video network so it's easy to build up a channel without a huge marketing effort.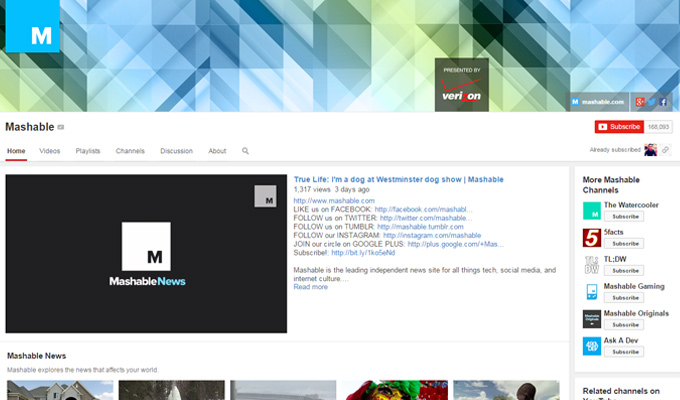 Each video you create may include a branded logo or link splashed onto the screen. This is a technique where bloggers can both claim ownership of content and drive people onto their website.
Another option is to place a direct hyperlink to your blog in the video description. Viewers often check the description and may be curious to visit your blog. Video content is often superior to photos because a great video series can actually make a name for your website.
The important point is that you need to offer some type of value. People are finicky with videos and it's an uphill battle to capture an attentive audience – especially with a brand new channel. If you want to go the route of making videos just be sure that each one offers something valuable and is recorded in a way so as to grab attention.
User-Voted Social News
The last and perhaps most interesting type of social media website would be social news communities. These are user-powered news websites that allow users to vote on content. The most highly-rated content goes viral and ends up visible to the entire userbase.
It's not easy to go viral with shoddy content. Most people are real finicky and don't want to waste their time on garbage. So when first getting started with social news keep an open mind regarding how it works.
Lurk around the communities and try to absorb as much as you can. Through studying these communities you'll learn what type of content goes popular and how to write in a way to target a specific community.
Reddit
The largest social news website currently online is Reddit. The community is built up of many various sub-categories named subreddits. You can find a list of the most popular subreddits from the Redditlist website.
Reddit is definitely worth learning if you have a blog which targets a specific niche topic. The more popular categories have millions of subscribers but they're also incredibly difficult to use for any serious attention.
Smaller subreddits might have 1k-10k subscribers which really care about a particular topic. When first getting started look for these smaller subreddits and try to submit your best articles.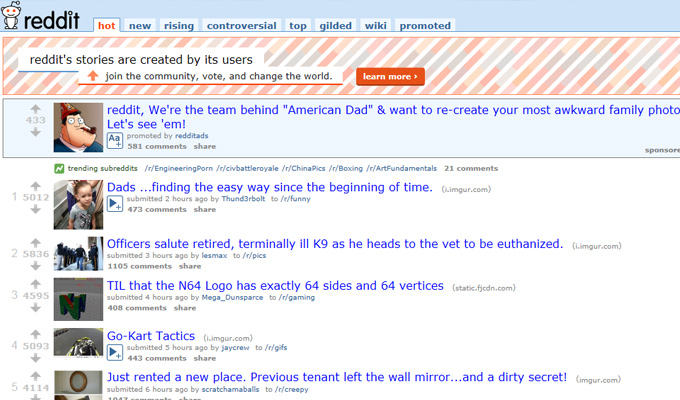 For this type of website it's actually a good idea to not create an account based on your blog. Choose a username which does not relate to your blog – otherwise people will assume that you're spamming links.
Content submissions need to look natural as if a person found your blog and really wanted to share the content with others.
Also take note that some communities do not accept link submissions. For example there's a subreddit named No Stupid Questions which only accepts text posts. Try to avoid posting your blog posts into these communities – or if you do at least make the text posts look natural.
Overall Reddit is perhaps the best way to drive a huge spike of traffic all at once. You just need to have great content and know which subreddits are worth targeting.
StumbleUpon
Voting doesn't always need to be on a point-basis like social news. StumbleUpon is a social networking site where people can share links and find new content. When signing up for an account you select topics related to your interests and let StumbleUpon choose interesting websites.
It's basically a random content generator powered by user feedback. People give a vote to content they like and the highest-rated content is shared most often.
StumbleUpon is a little trickier to use than Reddit but it can drive bursts of traffic over time.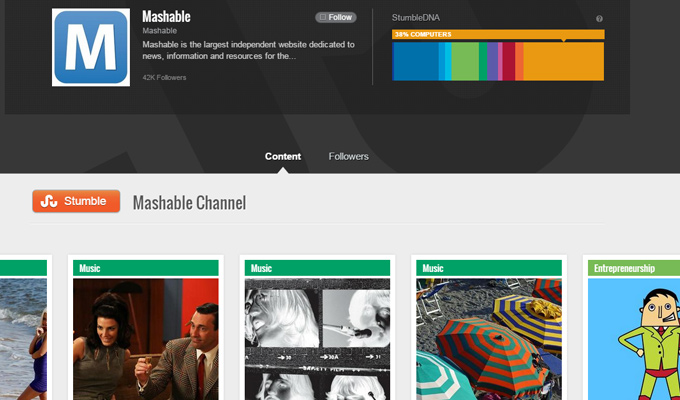 When creating a new profile on StumbleUpon it's perfectly okay to brand the account in the name of your blog. This site functions differently than Reddit and the community doesn't mind digging through archives of your stumbling history.
Between Reddit or StumbleUpon it's a little easier to get into Reddit. StumbleUpon requires building a network and credibility for your blog. On Reddit you just need to find a handful of subreddit communities that pertain directly to your blog's niche.
However both of these sites are worth learning how to use if you have the time. And there are plenty of other smaller social news communities which can also be quite beneficial. Here are some alternatives that you might want to check out:
Putting it all Together
There's no reason for every new blog to create an account on each of these networks. It would require hours of time for upkeep and maintenance would be difficult. But it's just as foolish to completely ignore the benefits of social media in regards to marketing your blog.
Take a look over these networks and see which ones could be of use to your marketing strategy. If you're unfamiliar with any of these websites it will take time and practice to learn how they work. Start small by practicing with the most common features. Build profiles that relate to your blog and engage your potential audience.
With time you'll learn new tricks and powerful marketing strategies for social media success across the board.