Running & maintaining a website requires consistent effort. But more importantly it also requires money to keep the site hosted and running 24/7. This may not be a problem with free blog platforms, but there's no doubt that every self-hosted blogger would like to earn a little bit of money.
Wouldn't it be nice to earn a basic income just by keeping your blog online?
The question becomes how to efficiently monetize a blog. Unfortunately the answer is dynamic because each blog has it's own unique audience. The blog's subject will have an effect on which methods earn the most money over time.
Your ideal goal should be to earn enough money to support the blog without appearing like a sellout. Visitors don't like going to a website that comes off as money-hungry. It's important to use a subtle touch with monetization so that you can earn money without sacrificing integrity.
The Basics of Monetization
People visit your blog because it has interesting or relatable content. To earn good money from a website you'll need to keep precedence on the content. Nobody wants to visit a site where the ads completely take over every page.
Subtlety is the key to successfully monetizing a blog. In-page advertisements are the most common and simple method of earning money. But there are some other alternatives which will be covered in detail in this post.
No matter which method(s) you choose, they all come secondary to the blog content.
Another important point to note is that relatable ads earn more from targeted traffic. If your blog is on gardening then ads related to gardens, cooking, or home care should be top priority. High-tier ad networks like Google AdSense will automatically target ads based on context. This is a great choice for new bloggers since there's not a lot of manual work because ad placement is controlled by the advertiser.
Overall just make sure that your ads will be relatable to the audience. Whether you're selling affiliate products or using in-page advertisements, context is key.
Which Ads are Right for Me?
The two primary methods of in-page advertisements are cost-per-click(CPC) or cost-per-thousand-views(CPM). Both ad styles display the same type of banners and graphics on the page. The difference lies in how you get paid.
A CPC network like AdSense will pay for each click. Advertisers bid how much they're willing to pay, so each ad will pay different. Low-traffic websites benefit the most from these ads because they'll still earn a lot even if you only have 100,00 monthly visitors.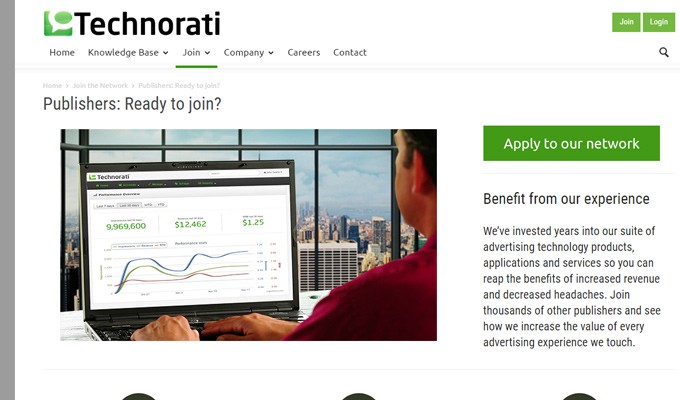 A CPM network like Technorati Media pays a typical rate for every 1,000 pageviews. So each ad block will count the number of times it gets displayed and uses this as a metric for payment. CPM ads work a lot better on high-traffic websites because the smartest way to take advantage of these rates is to push millions of pageviews.
It's worth pointing out that ad networks don't just accept any website. You'll need to prove that your blog has some reasonable traffic and quality content before applying. This means you should be running online for at least 3-6 months before seriously considering a direction for in-page advertising.
So with that said, which of these choices would be best for bloggers?
When first getting started CPC is definitely the way to go. Even if you're earning $10/month($120/year) it should be close enough to break even with hosting fees. CPC also doesn't rely on the number of visitors, but the amount of interactivity from visitors.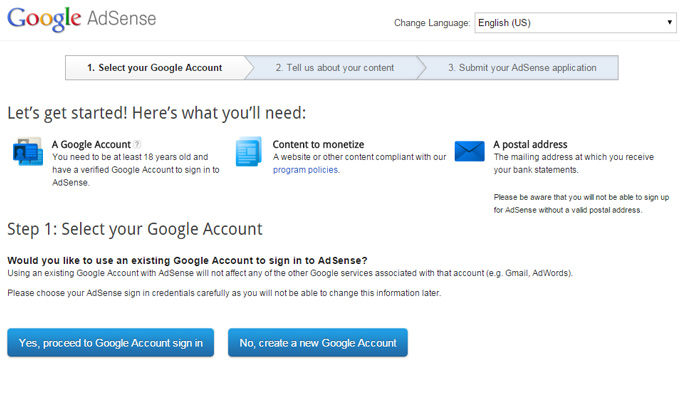 New bloggers will get the most out of Google AdSense because it's meant for small-time webmasters. Google is a very wealthy company and quite trustworthy to deliver payments. The AdSense network is full of millions of different advertisers so it's easy to match ads with any type of content. Their requirements aren't very high – you just need a reasonable body of unique content(20-50 posts) and some traffic.
But there are lots of different choices and variety is the spice of life. Here's a list of various CPC and CPM networks that cater to new webmasters:
CPC Networks
CPM Networks
In the beginning it won't matter a lot which style of ads you choose. It's recommended that new advertisers go with CPC(specifically AdSense) because it's easier to manage. But if you're feeling ambitious try signing up for alternatives and see what type of earnings you can achieve.
Flat-Rate Ads
An alternative to the CPC/CPM model is a flat-rate ad network. This method is often more flexible because prices can either be set from the advertiser or the webmaster.
Basically an agreement is created to pay a flat fee every month in exchange for ad space. Clicks and pageviews do not increase or decrease the payment.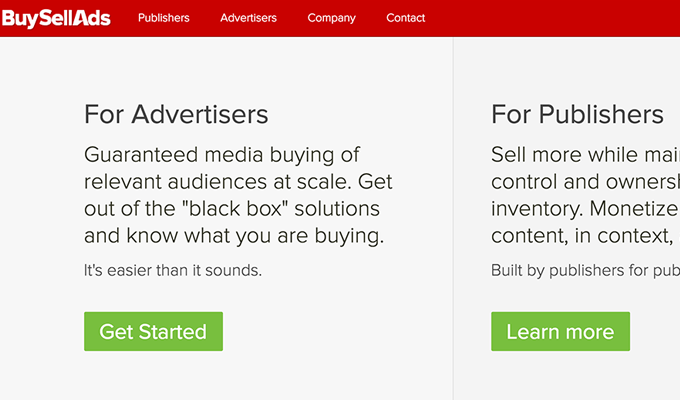 Perhaps the greatest modern example of a flat-rate network is BuySellAds. Websites are listed as properties on the site which advertisers can browse. Stats for each website are displayed on the page including monthly pageviews and social media followers.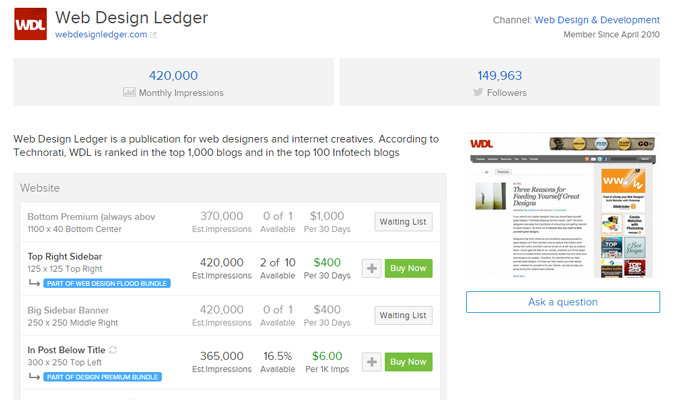 The webmaster can set their own rates for ad placements based on size and location. So for example a leaderboard at the top of the page should sell for more than a small block in the sidebar. Recently BuySellAds implemented a CPC/CPM system where advertisers can pay a certain limit and get exactly enough views to cover the deposit.
The great thing about flat-rate sales is that you don't actually need to use an ad network. Obviously it helps a lot, but you could try contacting advertisers directly with your own prices. If your blog drives enough traffic and has a specific niche then it's possible to set your own flat rates and get in touch with advertisers one-on-one.
Affiliate Sales
Some blogs delve into focused topics that cover new products or services which may be useful to readers. On these blogs it's possible to earn good money through affiliate sales.
Affiliates are like secondary salesmen who sell products for another company. For each sale you earn a small commission, and the company sells another product. Lots of companies offer affiliate programs online which include sales dashboards like you'd find with an ad network.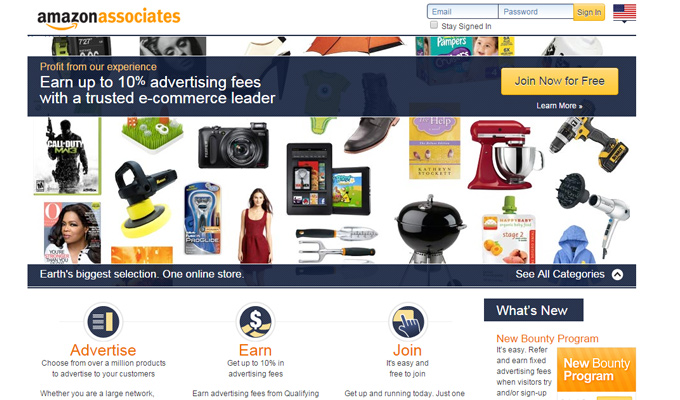 The Amazon Associates program is Amazon's affiliate system which runs sitewide. You can earn a percentage of each sale by referring people onto the site with a special affiliate link. This can go directly to the Amazon homepage or to a product page.
But the best part is that you'll earn money for any sale that happens through your link – even if the person doesn't buy the exact item you linked.
Affiliate programs are often versatile enough that you can fit them anywhere. You could add links directly into a blog post or create sidebar widgets that display on every page. The key is to advertise products which add value to your readers without coming off too promotional. It takes a little practice to get the hang of things but affiliate sales can be one of the most prosperous monetization methods.
But the reason affiliate money can be tough is that readers don't always want to buy things.
With in-page ads you're earning money from an advertiser so the readers aren't paying anything. Affiliate income is predicated on the notion that visitors want to spend money on products.
This is the biggest reason why Amazon is the best choice for an affiliate program. Most people have grown to trust amazon so they're willing to spend money on things from their website. A trustworthy source lowers suspicion and encourages visitors to make a purchase.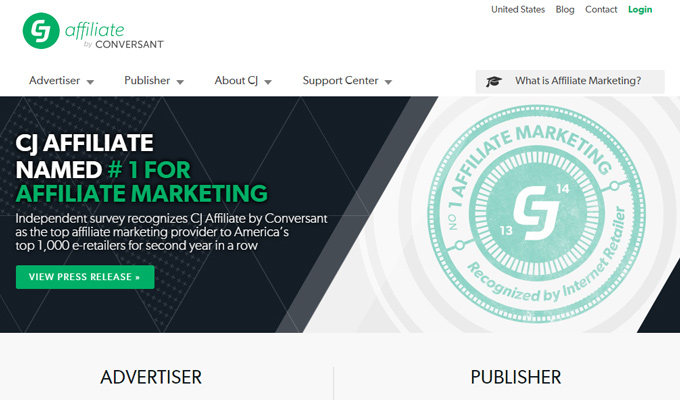 Another alternative you might try is Commission Junction which behaves more like a directory of individual products. After digging around for a while you might stumble onto some cool stuff. But keep in mind that visitors can be more wary of making a purchase, so a trustworthy source is the most crucial aspect of affiliate monetization.
Paid Link Placement
Once your blog reaches a sufficiently high number of visitors you might try earning money through link placement. This is where you write a typical blog post but squeeze a link somewhere into the content.
Links placed within content are not affiliate links. They're just regular links which go to a homepage or landing page somewhere.
Link placement is meant to be a natural advertising method where a company pays for backlinks. Instead of a blog post focused solely on the link, it's placed inside of a post on a slightly related topic.
This type of link placement can earn good money depending on the size of your blog and the quality of your content. You'll definitely need to have some writing skills and knowledge of how to place links into text naturally. But since these style of backlinks are hard to find advertisers will pay good money for the service.
There is no big network or community in which to contact people about link placement. Smaller marketing forums will discuss this topic and sometimes you can find one-off deals. But the true power of link building is earned through networking. Build up a name for your blog and connect with others in the blogging industry.
Over time you'll meet the right people who would be willing to pay for link placement. The alternative is to contact specific companies directly asking if they would be interested in link placement. But to get any positive feedback you really need to have a solid blog with great content and a constant stream of traffic.
Creating your own Products
If you have special skills or abilities you might try creating unique products and selling them on your blog. These products could be digital or physical, although digital products tend to sell quicker and easier.
Not everyone will have the tenacity required to start and finish a product. No matter what you choose to create it will require a lot of work and fine-tuning. And even once the product is finished you'll be responsible for marketing and sales management.
The upside is that you earn 100% of the profits from each sale. In this scenario you will most certainly reap what you sow as long as the product is high-quality and valuable to the audience.
Blogs work as fantastic selling tools because you can setup an alternate page for the product and link to it within the navigation.
By working in unison with other related blogs you can even setup reviews to guide other readers onto your website. Free giveaways are another option to bring attention to the product while giving a number of people the opportunity to try it out for themselves. Here are a few ideas for digital products that could fit many different categories:
E-book
Video series
Blog theme(s)
Mobile app
Online services(writing, design, etc.)
Monetizing your website through custom products is never easy. For most bloggers this would become a deterrent from just writing great blog posts. Yet it's still a valid method of earning money if you have a great idea and want to find a way to publicize it online.
Take into consideration all of these various methods for monetization. A blog is only as good as its content so be sure to never lose sight of what's important.
But if you're working hard to manage a great blog why not earn a little bit from that hard labor?
If you're absolutely brand new to blogging the first network you should try is Google AdSense. Whether you get accepted or not, it's always possible to move onto other networks in the future.
Once you're more experienced with running a blog then start to diversify your income. It's certainly possible to use a number of these techniques all in the same website if done correctly. But start off slow, learn the basics of each technique, and soon you'll be a master at website monetization.