Every modern blogging platform can be extended with plugins. These are separate scripts that tie into the main website and update or improve functionality. Although there are many options to choose from, WordPress is by far the most popular and easiest to learn.
When setting up a new WordPress blog, great plugins will provide essential features to expand the quality of your website. Most plugins are completely free and super easy to install.
The following examples are judicious and focus on distinct features without much duplication. You may not find a need for all of these plugins, but the vast majority of them will prove incredibly helpful and beneficial to the average WordPress user.
W3 Total Cache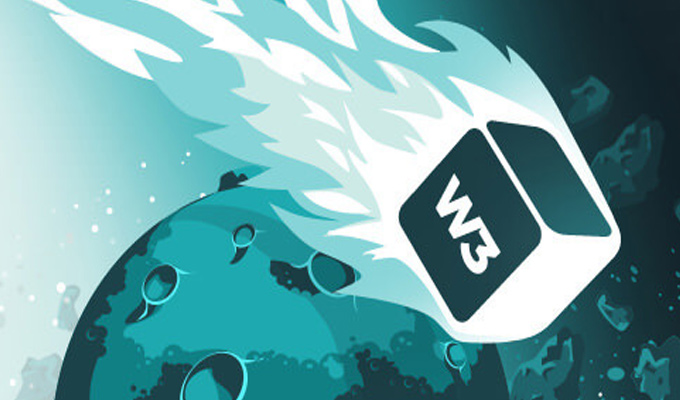 Among the many free caching plugins nothing can compare to W3 Total Cache. It's designed to improve the speed and efficiency of a WordPress blog through local caching. This basically creates a copy of each page to cut down on database connections and HTTP requests.
W3 Total Cache has a lot of options. Like seriously a lot of options. But most of them are only useful to advanced users who run WordPress blogs pulling over 50 million pageviews a month. If you install & setup W3TC using the default settings it will provide exactly what you need for a typical blog.
A good way to check your website's performance is with an online tool like Google PageSpeed. This will check the loading time for major resources and the individual pages themselves. If you're having trouble with the setup take a look over the plugin's FAQ page for more details.
Yoast SEO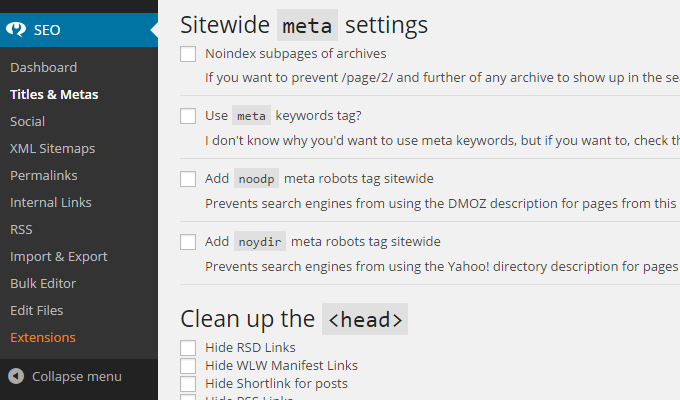 New blogs can achieve first-page search engine rankings with proper SEO(Search Engine Optimization). This process encompasses a lot of things like page titles, descriptions, and meta information crawled by search bots.
WordPress is an extremely flexible platform that has a lot of great SEO right out of the box. However it's worth the effort to install an SEO plugin. Yoast SEO is one of the most popular choices because of the simple dashboard and settings. New bloggers will quickly learn the ins-and-outs of Yoast without much confusion.
All the default options should work great for a majority of blogs. Yoast does have an extended settings panel with lots of different customizable options. But most are setup properly from the get-go and if you customize the post title/description generator then Yoast will do all of the other hard lifting without your attention.
Yet Another Related Posts Plugin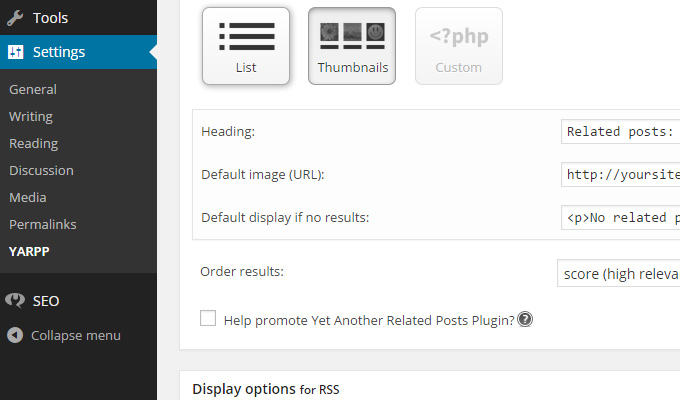 A powerful reading experience will drive new visitors further into your blog. This can occur on the homepage or through various post widgets. Related posts are often great for driving visitors further into a blog with keyword-rich content.
Yet Another Related Posts Plugin has a long and seemingly generic name. But it's truly one of the best plugins for creating related posts on your blog. Based on a post's category and tags this plugin queries for other posts on similar topics. These posts are listed in a row using various pre-built templates. Once installed you can just leave this plugin alone and it'll deliver great results for related content on all of your blog posts.
NextGEN Gallery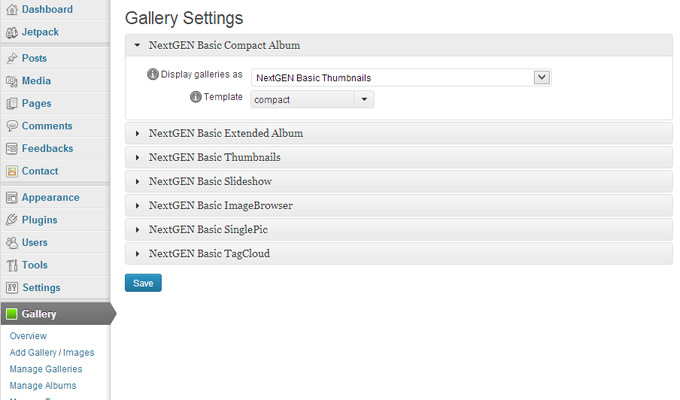 What blog post could be complete without images? Perhaps some topics read better with only text but after a while it can get boring. Images are the spice that gets sprinkled onto posts to break up content and express ideas in a more illustrative manner.
WordPress comes with an image embed menu – but how should you handle image galleries?
One of the best plugins for this job is NextGEN Gallery. Images can be batch uploaded and organized into specific galleries before even writing the post. You'll also be able to edit thumbnails and choose how the gallery should display on the page. This can work as an auto-rotating image carousel or as a click-to-expand thumbnail gallery.
There's no doubt that NextGEN is a beautiful plugin with an incredible bag of features. Take a look at some of the screenshots to see how different galleries look on blog posts.
Fast Secure Contact Form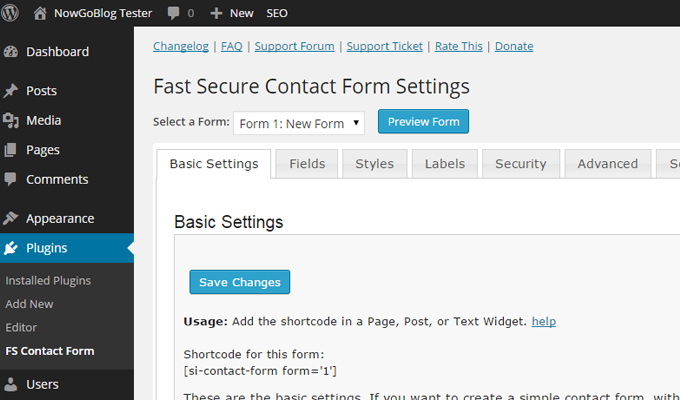 Every good website deserves a great contact form. You never know when a visitor or potential advertiser will want to reach out through e-mail. It's possible to create a page with just your e-mail address – but this is certainly not the best option and it's an easy way for spammers to obtain your address.
By creating a page with the Fast Secure Contact Form plugin you'll have an easy interface with security built into the form. The plugin uses a CAPTCHA image to verify if the message is being sent from a human or a computer. This extra security will keep your inbox free of garbage and leaves room for the important stuff.
Another great thing about this plugin is the administration panel. On the backend it's super easy to manage without a whole lot of bulky menus. And if you're familiar with CSS it's also easy to customize the style of the contact form. Each input field and the submit button can be edited to fit snug into any layout.
MailChimp for WP
Newsletters and email campaigns are a noteworthy part of online marketing. Small bloggers who are just getting started may not want to complicate things with a newsletter. But as traffic numbers increase and your library of content grows, a blog newsletter can be one shrewd investment.
The only difficulty comes with managing a newsletter. This is where a service provider like MailChimp comes into play. They've released a custom MailChimp plugin that connects right into the WordPress dashboard. This allows webmasters to create a unique subscription box and squeeze it anywhere onto the page. Then it's super easy to use MailChimp as the blog's primary newsletter management platform.
If you find the setup to be a little confusing just take a peek at the plugin FAQ page. Lots of great info about this plugin online and user ratings are basically 5 stars across the board.
Google XML Sitemaps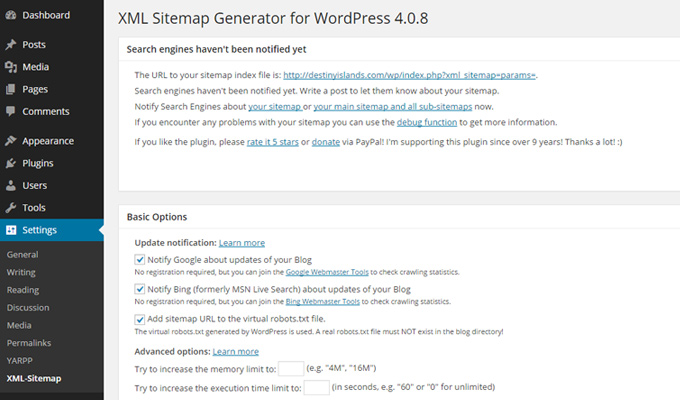 An XML sitemap is a document created for search engines to quickly catalog every blog post and page on your website. The previously mentioned Yoast SEO plugin can generate a similar XML sitemap. But not everyone will want to use that feature or even stick with Yoast indefinitely.
That's why Google XML Sitemaps is an outstandingly popular plugin for every single WordPress website. This is a must-have for every website because there are no downsides. The XML sitemap will regenerate frequently to include new posts and pages. Major search engines will be notified that a new sitemap was generated and this will expedite the search ranking process.
Just install this plugin, set it up, and forget it even exists. The benefits may not be seen directly but they will permeate through every search query that leads onto your blog.
Disqus Comments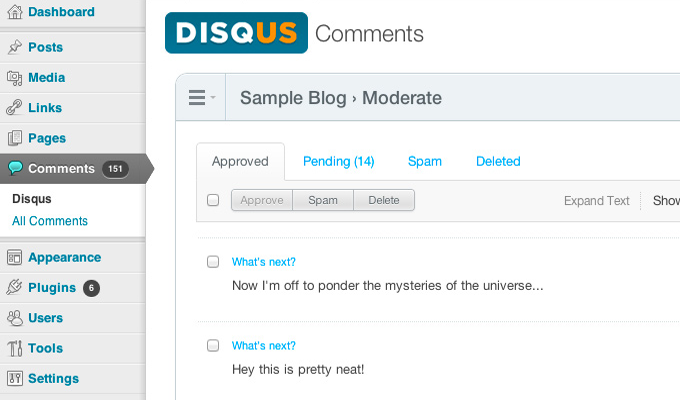 By default WordPress has a relatively basic comments system. It's not bad, however it's really not that great. WordPress comment forms are an easy target for spammers because they're so predictable and don't have much security. Akismet is a possible solution but it still forces readers to use the sub-par WP comment system to post legitimate comments.
A better solution is to move onto an alternative comments platform. Disqus Comments are seen on a variety of websites and millions of users currently have accounts. The greatest part about Disqus is that you don't even need an account to post. Through Disqus settings it's possible to require a login before posting, but anonymous comments are very popular on smaller blogs.
Disqus also has an internal spam filter which is simply outstanding. This is one plugin that you can setup and leave without the need for constant management, and it's a much more elegant solution than the default comments.
Latest Tweets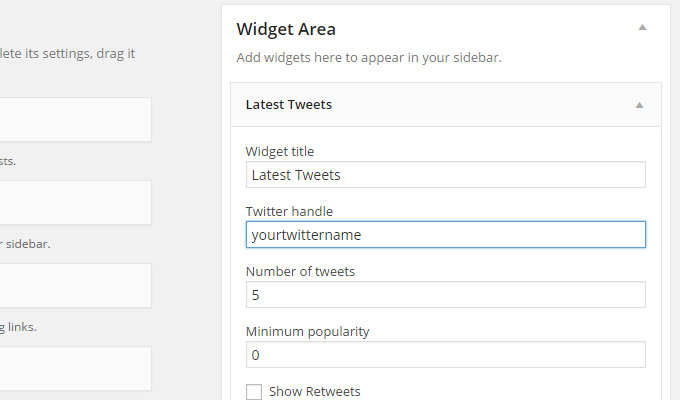 If your blog doesn't have a Twitter account yet then make sure you scribble a note onto a to-do list somewhere. Twitter is quite possibly the most useful social media platform for bloggers because it's inherently the quickest way to update readers on new posts and site news. All of Twitter behaves like a constant stream of information – kinda like a blog except limited to 140 characters.
Latest Tweets Widget is perhaps the best free way to pull recent tweets from a Twitter account. The template can be edited to match your blog design and it's very easy to setup. People who find your blog through Google may not be aware that your site has a Twitter account. This widget removes all doubt and even shows a quick preview of recent tweets.
It's perfect for drawing attention to the site and demonstrating that your blog is current & up to date. Incorporating an auto-tweet feature like Twitterfeed makes it that much easier to manage.
Page Links To
URL structures in WordPress can be a little tricky. It's always possible to customize the base URL but there isn't a ton of functionality for manually redirecting a specific link. This is why Pages Links To is such a valuable plugin. It offers some basic functionality that cannot be matched with default settings.
Pages Links To allows WordPress users to create links that go anywhere. These links could redirect to files on your site(like a PDF), or they could link to a completely external website. For example you could make a URL like yourblog.com/google/ redirect straight to Google's homepage.
There is a lot of power in this plugin if you have a reason to use it. And while other plugins can perform similar tasks, none of them are as easy to work with as this one.
WP Smush.it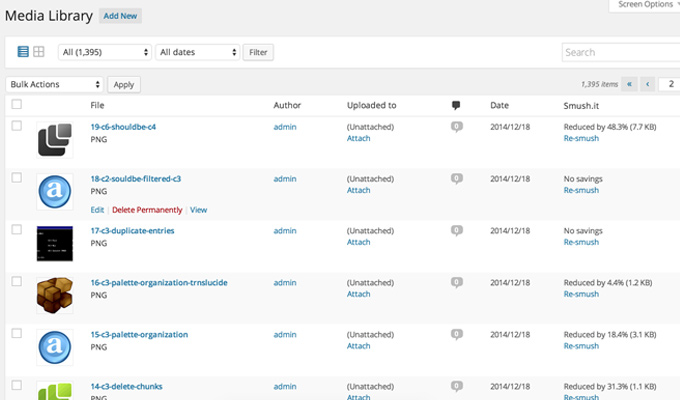 There's no getting around the fact that every website uses images. But how those images are handled and compressed is another topic altogether. And on that topic is a cool WordPress plugin named WP Smush.it.
This plugin will automatically strip the excess data from uploaded images and reduce their file size. There is absolutely no quality loss with this process and the images still look exactly the same.
It's a matter of cleaning metadata and excess info that isn't needed based on complex algorithms in the plugin. This will help your blog load quicker and organize cleaner resources than the traditional media upload library.
UpdraftPlus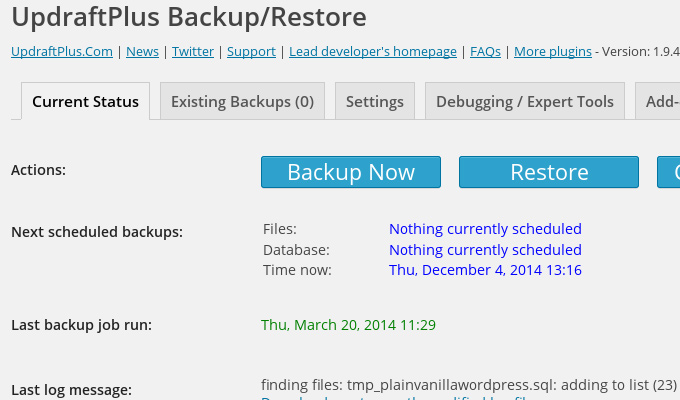 Website backups are crucial for both safety and data restoration. Sometimes it's nice to have local backups of a website just incase anything happens. Also when switching between different hosting providers you'll want to pull down a local backup for storage and installation.
WordPress has a multitude of free backup plugins but UpdraftPlus is one with some incredible features. Backups can be done manually or scheduled to happen at certain times(monthly, yearly, etc). Backups can obviously be saved to your computer but they can also be remotely stored in cloud services like Dropbox or Google Drive.
UpdraftPlus includes a quick restore feature to revert back to a previous backup state. It also has a built-in migration function to duplicate the blog onto another server. UpdraftPlus has every bit of functionality you could ever need in a backup solution. The settings panel is super easy to navigate and it's just a great plugin for WordPress users from novice to expert, and everyone inbetween.
Wordfence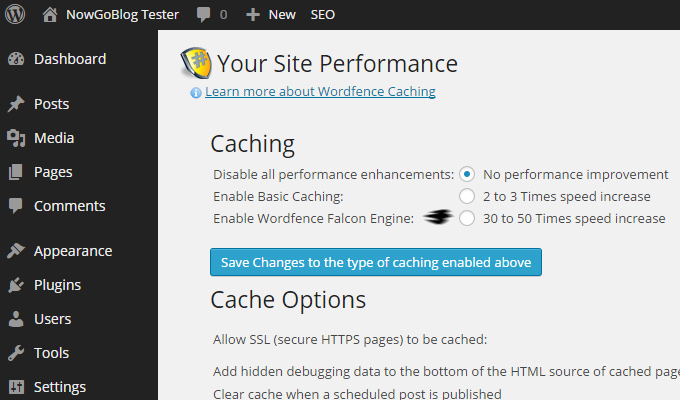 Security is a top priority on any website. Thankfully when it comes to WordPress there are loads of security measures already built into the system. But you can never be too careful and that's why Wordfence is such a popular and respected plugin.
Wordfence can limit hacker attempts while also scanning your WordPress blog for malware. It will check for exploits that may have been installed into your website and clear out any unwanted scripts.
There's a bunch of technical stuff that Wordfence does really well. If you're interested in the details check out the Wordfence FAQ page. But if you just want the gist of it: Wordfence is like a 24/7 security system guarding your blog and keeping it safe from harm.
WP PageNavi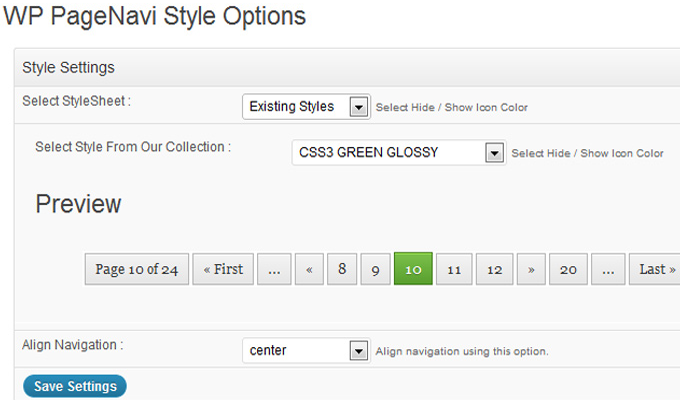 The default WordPress pagination is rather confusing. Once your blog has many pages of posts the pagination links will appear. This is how readers can navigate between different pages and view older archives.
But most free WordPress themes come with a "next" and "previous" link, forcing readers to only move one page at a time.
WP-PageNavi is a free plugin that offers an exceptionally sophisticated solution. These pagination links are instead replaced by a multi-page link list. So users can still move next & previous, but they also have an option of skipping pages based on page number. This navigation style is most common on larger blogs with dozens or hundreds of pages.
Even if you're running a small blog this is still a useful pagination feature. No functionality is lost because readers can still move one page forward or backward. It simply offers additional options for skipping between pages. If you're having trouble with installation just follow the instructions page as described. PageNavi requires a little bit of work to setup – but once you've got it going it'll become an indispensable part of your blog's layout.
Right Now Reloaded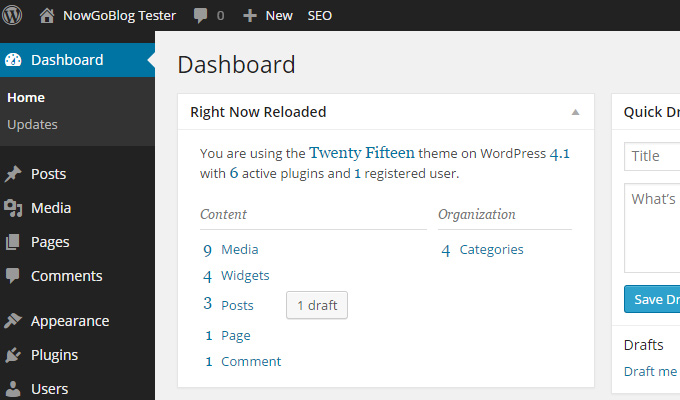 On the main WordPress Dashboard you'll notice a small box labeled "Right Now". This contains some info on your WordPress blog including the total number of posts, pages, categories, and user comments. It's pretty nice but this box can be greatly expanded using the Right Now Reloaded plugin.
Right Now Reloaded will add more specific information into the "Right Now" box. You'll be able to see posts & drafts with links to both of them. There's also info regarding the current WordPress version, active theme, and total number of plugins. Right Now Reloaded is just a better version of the default widget. There are really no downsides which makes this plugin all the more valuable to new users.
Floating Social Bar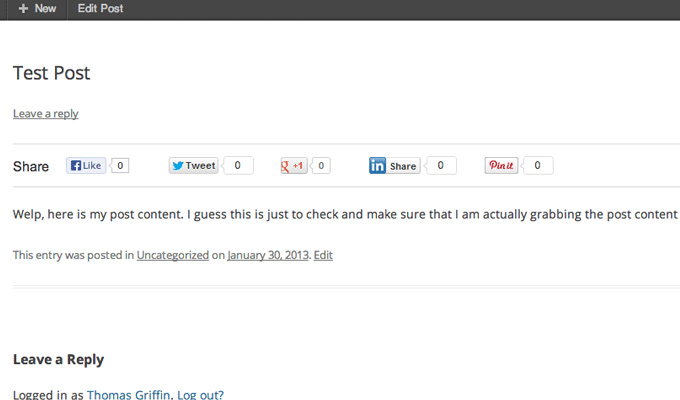 Driving traffic to your blog is no easy task. Google is always a terrific asset but social media can be one of the best resources for new blogs. If readers enjoy your content they'll be more likely to share it with friends on Facebook, Twitter, Pinterest, and other similar websites.
The goal is to make social sharing as easy as possible.
Enter Floating Social Bar which is a free WordPress plugin for adding badges onto your site. The best part about this plugin is how each badge is pulled directly from the respective website. Some plugins create their own custom badges which are really just links. This is okay, but links don't indicate any social proof.
With share badges visitors will notice if one of your post has 1,000 retweets and 2,000 shares on Facebook. This social proof is a valid reason for others to share because it's obvious that so many people already like the content. If you want to try something more detailed go for the Ultimate Social Share Icons plugin. As it stands both are great options and perfect for a new blog.
Responsive Lightbox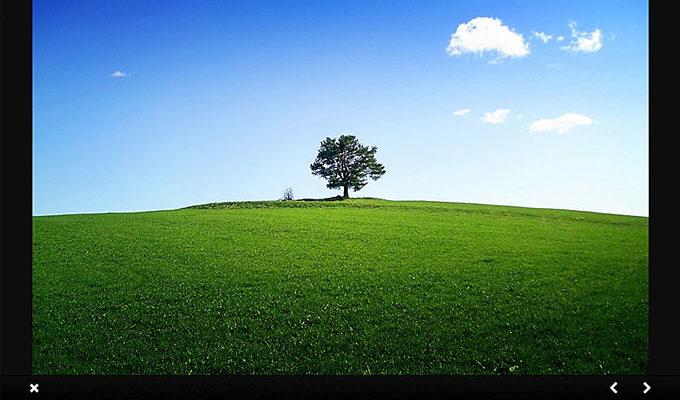 Years ago it was common for image galleries to open larger images in a new popup window. Times have changed and nowadays developers use what are called lightboxes. These are in-page popups that dim the website and open a new box on top. This box could hold text, video, or most commonly images.
The Responsive Lightbox plugin is a quick free way to incorporate this effect into your blog. It has 5 different lightbox styles to choose from which all display images and image galleries. These boxes can also hold YouTube videos or other types of embedded content. This plugin is basically the #1 method of creating a "popup" effect without the annoyance of a new window.
And since this plugin is responsive the functionality will work on any device. From an iPhone to a 5k iMac computer, this plugin was built to expand to fit any screen size. It is by far the most recommended and highly-rated plugin for creating a lightbox effect.
Shortcodes Ultimate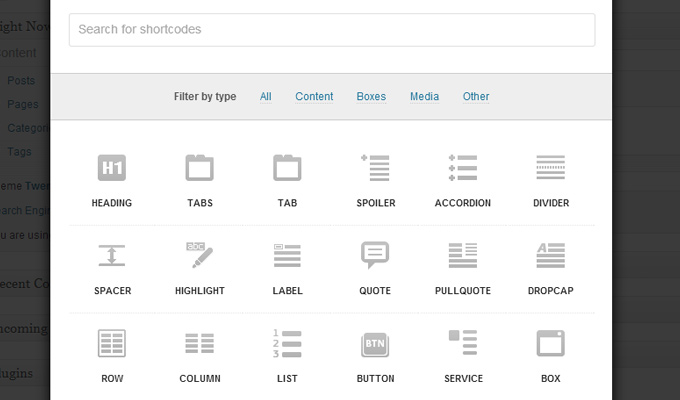 WordPress comes with a library of features known as shortcodes. These are little code snippets that can be added into a post to create more detailed content. Custom shortcodes usually need to be created from scratch, but with a plugin like Shortcodes Ultimate you can use dozens of free pre-built shortcodes without any hassle.
Once you've installed Shortcodes Ultimate there will be a small "insert shortcode" button above each post editor. You can pick from dozens of features including accordion menus, tabbed widgets, tables, even custom embedded Google Maps. The plugin is completely responsive so all of the shortcodes will work for any screen.
Bloggers who just want to write posts and feel comfortable using the basic functionality may not find this plugin useful. But if you ever need a swiss army knife of custom widgets then be sure to install Shortcodes Ultimate and give it a try.
FD Feedburner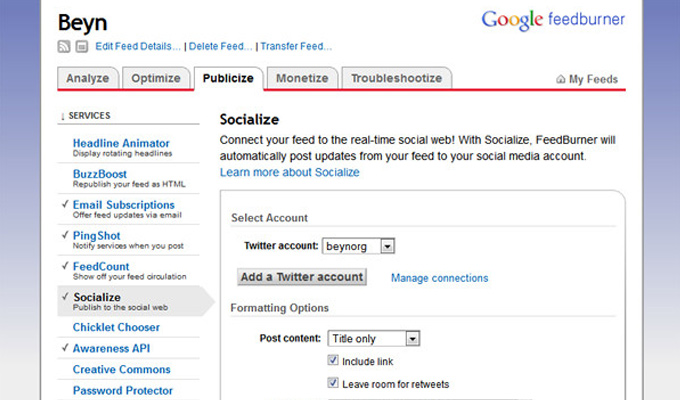 Every blog on the Internet has a built-in RSS feed. This feed is like a ticker tape of recent posts.
RSS feeds can be used in Feed Readers that pull all the latest posts from various blogs at the same time. Many people still get their news through RSS because it's quicker than visiting a dozen different websites.
WordPress creates an RSS feed right when you install a new blog. It works great but the problem is that it's pretty basic and doesn't offer much in the way of special features. Many bloggers who actively support RSS will instead use Feedburner because it's completely free and offers statistics for how many people are reading posts through the feed.
FD Feedburner is a plugin which automates the transition from WordPress to Feedburner. All of your WordPress RSS links still work, but they just redirect to Feedburner. This is a much cleaner and simpler method than manually editing RSS links.
Google Analytics Dashboard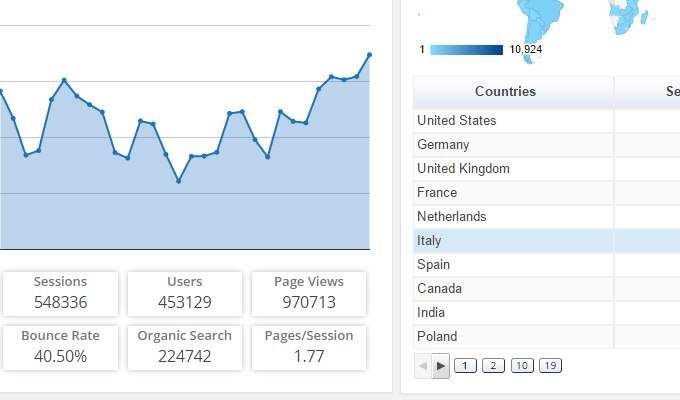 When it comes to free online traffic statistics there is no better company than Google. Their online platform Google Analytics is completely free and offers the most in-depth reporting with a fantastic dashboard interface. You can track visitors, browsers, time on page, bounce rates, honestly anything you could ever need.
Google Analytics Dashboard was created to make your workflow even easier. Now you can study all of this traffic information directly from WordPress. Installation requires an API key which can be obtained for free though the Google Analytics website.
Every webmaster should be using Google Analytics for traffic details. This plugin removes that superfluous step of visiting a different webpage to look at traffic data. It's completely free and well worth an installation onto any WordPress blog.
Wrap Up
Hopefully this list includes enough plugins to benefit every new or experienced blogger. WordPress is an incredibly powerful system once you know how to use it. By extending the system with plugins you'll gain even more power and control over all aspects of blogging.